French Pattern – Roman Travertine
---
March 19, 2021
The French pattern, also known as opus romano, is a classic cladding or flooring scheme for roman travertine tiles. This is an aesthetic code, declined in different variations, which originates directly from ancient Rome. Actually, opus is a Latin word that means "work", and here it refers to the technique that was used to assemble the tiles in order to make the arrangement of the space homogeneous and logical. In other words, this is an ancient codification of natural stone tiles installation that is still used today.
French Pattern Installation
In order to recreate the French pattern there is a precise scheme to follow and specific shapes for the tiles. As shown by the following pictures, the classic schemes used for travertine flooring or cladding require 4 sizes, namely 2 squared and 2 rectangular tiles. The original disposition is repeated all over the chosen surface.
For a pleasing final result, proportions are very important in French pattern. There are two typical options of sizes to create a perfect Roman opus, as illustrated below:
Floors and walls in roman travertine have always struck for the sober beauty and elegance they offer from the very first glance. Used for both indoor and outdoor flooring and cladding, roman travertine adapts perfectly to the techniques of opus romano, or French pattern, also thanks to the skillful workmanship professional technicians and installers offer.
Cuts and colors
French pattern is generally processed using cross cut travertine with warm tones.
The difference in the processing of roman travertine in "vein cut" or "cross cut" depends on the type of cut that is carried out from the quarried block. When travertine is processed in cross cut, the cut is made parallel to the quarry's bench. Generally, it results in a nuanced, cloudlike appearance. Instead, when Travertine is processed in vein cut it portrays its natural veins.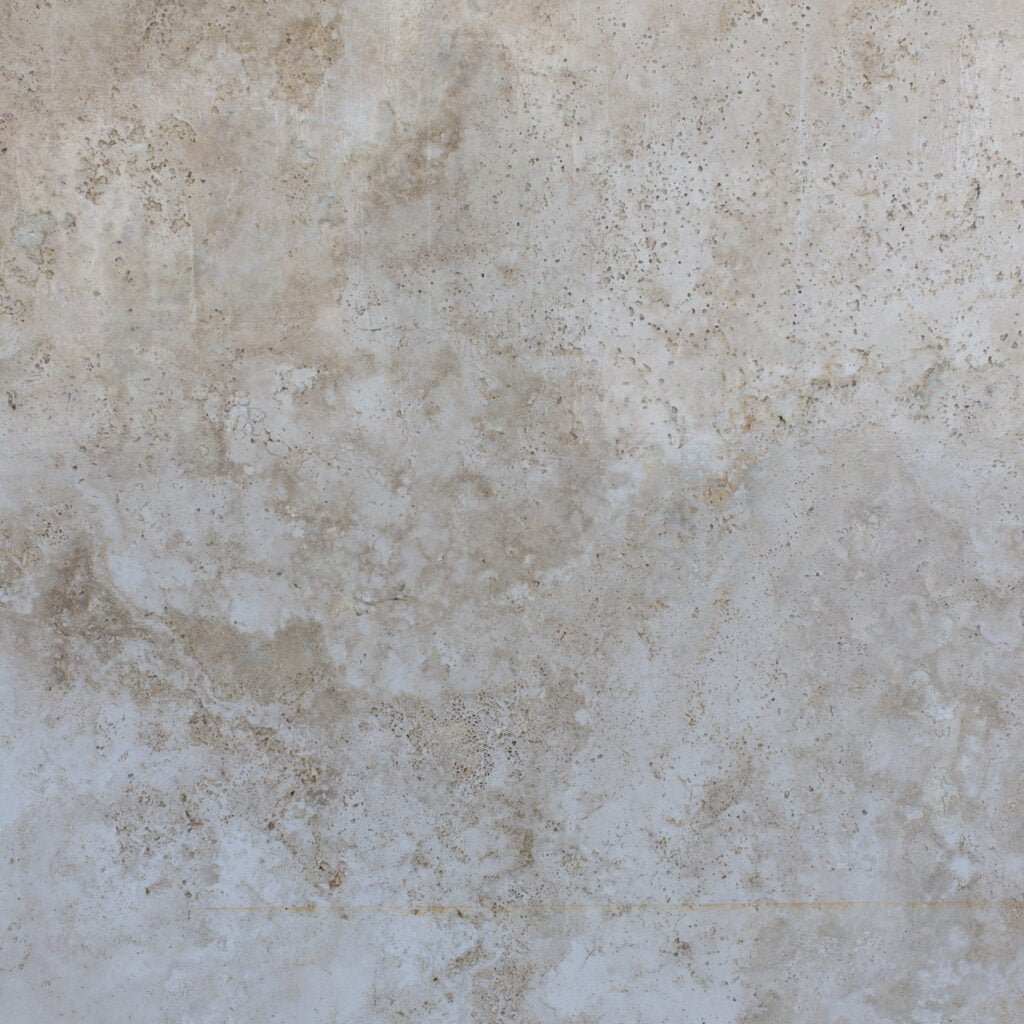 An example of opus romano with a shade of walnut color in cross cut is illustrated below, in picture 1. Here, the stone is processed in tumbled finish: a treatment of travertine with a highly specialized machine that through the piercing of water and some abrasive elements gives tiles an opaque appearance and a rounded finishing touch. In this case, the joints, or the space between one roman travertine tile and the other, are usually 3 millimeters wide and are filled with natural cement to highlight the finish.
Variations can be added to the classic French pattern with roman travertine tiles, as in the case of picture 2. Here the design was composed with different travertine shades and both cross cut and vein cut processings were used.
Less often one may see French pattern realized with roman travertine in light colors. However, as shown in picture 3, the final result is still of great impact, as the mix of light tones provides a sophisticated look to the ambience.